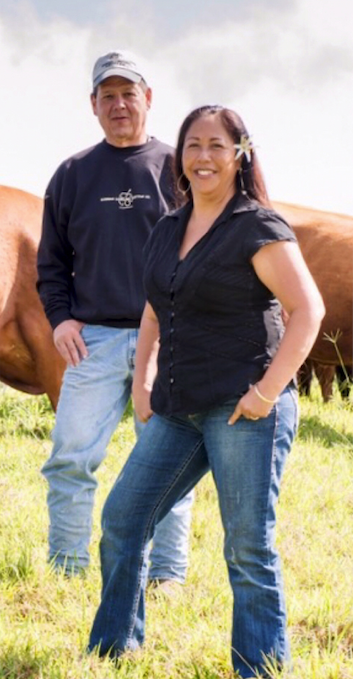 Aloha!
We are Rick and Haleakala Sakata, owners of Hawaiʻi Lowline Cattle Company LLC. We are native Hawaiians living on the Island of Hawaiʻi. We havenʻt always been ranchers. In fact, I was born and raised across from the beach. Swimming, surfing, paddling canoe and dancing hula were my favorite past-times. Rick, being born and raised in our current hometown of Honokaʻa, on the Hamakua coast of the island of Hawaiʻi grew up playing sports and working in the family insurance business. It was only while helping friends with their ranch work and cattle handling that we grew to love the ranching life. Those days were filled with fun, laughter and very long and hard work. As we got older, dreaming of happy cows, flowery farm fronts and green pastures were becoming much more appealing. The fact that we were getting too old to chase and be chased by some big cattle also helped us to decide that weʻd like to try our hand at raising our own cattle. With the help and support of friends, our first lowline cattle were purchased and Hawaiʻi Lowline Cattle Company, LLC was born.
Mahalo for visiting,
Haleakala
"Lowlines are Aberdeen Angus beef cattle in a compact, smaller frame size. They originated in Australia, where the beef is known for its excellent taste, texture and tenderness characteristics. They are docile and well-suited to beef production on grass. This means, Lowlines are more efficient in converting grass to meat than today's larger breeds. Because of their moderate size, two Lowlines can use the pasture space of one of today's larger breeds, providing more beef per acre of grass and making the land more productive. That's very important on an island with limited pasture space.
We purchased our first Lowlines at the start of 2008 and brought them to Hawaii from the mainland. Going the extra mile to care for our cattle, we decided to become Certified Animal Welfare Approved by A Greener World – it aligned nicely with our beliefs and provides our customers another reason to trust the quality and integrity of our product."
Hawaii Lowline Cattle Company's herd of Lowlines is currently the only registered Lowlines in the state of Hawaii. The first calf born in 2008 was cause for celebrating the start of Hawaiʻi Lowline Cattle Companyʻs "first Hawaiian Lowline herd".